In the past two years, more and more environmentally-conscious cafes will offer some "green discounts" to encourage guests to bring their own coffee cups (accompanying cups) to minimize waste of disposable cups. This new way of consumption allows us to show a little kindness to the earth while saving money.
There are many brands and styles of accompanying cups on the market. If you have difficulty in choosing, you may wish to take a look at today's article. It may help you to choose a accompanying cup with both functionality and design.
Selection principle of coffee accompanying cup
1.Select material
2.Size capacity
3. Stability
4. Is it easy to clean
Selection of materials: Generally speaking, the biggest key to keep the drink delicious is from the effect of heat preservation and cold preservation. This has a lot to do with its choice of materials and design structure. In addition, the accompanying cups made of some materials are not suitable for holding beverages such as coffee and tea, and odors that are difficult to remove will remain after a long time.
Generally speaking, "stainless steel" and "double glazing" are good choices from the perspective of heat preservation and cold preservation.
Generally speaking, "stainless steel" and "double glazing" are good choices from the perspective of heat preservation and cold preservation.
Size and capacity: The purpose of buying the accompanying cup is to make it convenient for drinking on the way, but the larger the size, the better. If you do not finish the drink in time, the flavor will be greatly attenuated over time. Therefore, it is recommended to choose the volume that you can usually drink in a short time.
For specific capacity, we can use the cup size in the cafe as a reference, for example: about 240ml for small cups, 300ml and 320ml for medium cups, and 470ml and 600ml for large cups. You can buy as many cups as you usually drink.
Stability: Of course, the carry-on cup is mainly for carrying around, especially when we need to go out or exercise for a long time, it is particularly important whether the close-by cup is stable and the beverage inside is not easy to tip over.
We may wish to pay more attention to the design details and sealing performance on the accompanying cups, such as: whether to strengthen the cup mouth, whether there is a special cup lid, whether there is a design that is not easy to turn over.
Whether it is easy to clean: The accompanying cup is not disposable, so whether it is convenient to clean is also a point we should consider. If we like drinks like coffee or tea, and the amount of activity is not too much, then glass or ceramic is recommended. This type of material is easy to clean without worrying about residual odors.
In addition, if we often use the accompanying cup, it is recommended to choose a cup with a larger cup mouth and a cup mouth that is easier to remove, so that it is easier to manage.
If it can be heated in a microwave oven or washed in a dishwasher, that's a plus.
Which accompanying cups are the most popular and recommend a few for you:
Outdoor stainless steel kettle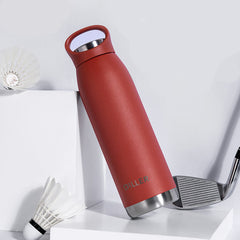 The size fits the city bike cup holder, which is convenient for travel.
Simple Modern licensed drinkware is double-walled and vacuum insulated, which keeps your favorite beverage hot or cold for hours.
Our double walled water bottles made of phthalate-free toxin-free BPA-free Plastic and professional food-grade stainless steel, to ensure pure taste and no flavor transfer, when drinking, there is no smell or metallic taste.
The powder coat of stainless steel vacuum insulated water bottle gives you a solid grip. it means an easy-grip, sweat-free, and extra-durable bottle that you can take anywhere.
The Vacuum Insulated Water Bottle is Perfectly suited for Running, Gym, Yoga, office, Outdoors and Camping, and also It fits car cup perfectly.
Capacities 650 ml (22 oz), Size 7.5 x 27 cm (3 x 10.6 inches).
Stainless Steel Vacuum Insulated Travel Tumbler with Lid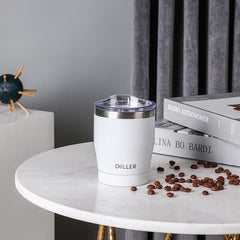 Tumbler is with Double-Wall vacuum technology, which keeps your favorite beverage hot or cold for hours.
The tumbler is made from high quality 18/8 304 food grade stainless steel. Lead free and durable. Rust-proof, easy wash and unbreakable.
Sweat proof, easy grip, the advanced technology prevents heat transfer to outer wall, condensation free and long lasting. Electro polished inside delivers elegant look. Designed for car cup holders.
Extra sealed and the lid cover provide maximum splash-proof capability. Drink hole on the top for easy sipping.
Capacities 300 ml (10 oz)
Vacuum Insulated Wine Tumbler with Lid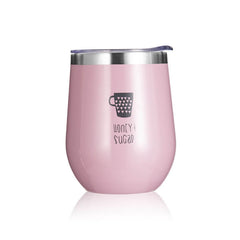 No sweat design and no heat transfer for a more comfortable experience.
Small details matter to us. Powder coated with laser etched logo to prevent paint chipping. Unbreakable, Shatterproof, Pro-grade stainless steel ensuring no metal taste and superior durability. BPA free plastic lid with a silicone seal that won't leak. All of this to provide you with more time to relax and have fun.
Travel light - One tumbler for your next camping or road trip. Advanced vacuum-insulated technology making it perfect for any hot or cold beverage, whether it be coffee, water, wine or your favorite brew.
For the coffee, beer or wine enthusiast, our designs will enhance the drinking experience by maintaining the ideal temperature longer.
Capacities 320 ml (11 oz)
Every year, a large number of disposable coffee cups are discarded every year, causing a lot of waste. It i0606s said that in the UK alone, 2.5 billion disposable coffee cups are thrown away every year, "enough for five and a half times around the earth."
Let's start today, say goodbye to disposable coffee cups, and use your own cup to buy coffee. This is a small act of kindness to our homeland.